Appointment scheduling that protects you from the competition.
We built Rocket Client Management to protect your relationship with your clients. Other scheduling products focus on growing an online community that points your clients to the competition. Rocket is designed to build your business by keeping client contact within your ecosphere.
No credit card is required to get started.
Rocket is wicked easy to set up and use.
Who has time to fuss with setting up new stuff? Scheduling software is meant to save you time and make your business operations easier. Give us 15 minutes, and your Rocket account will be ready for blast off to schedule all of your client appointments.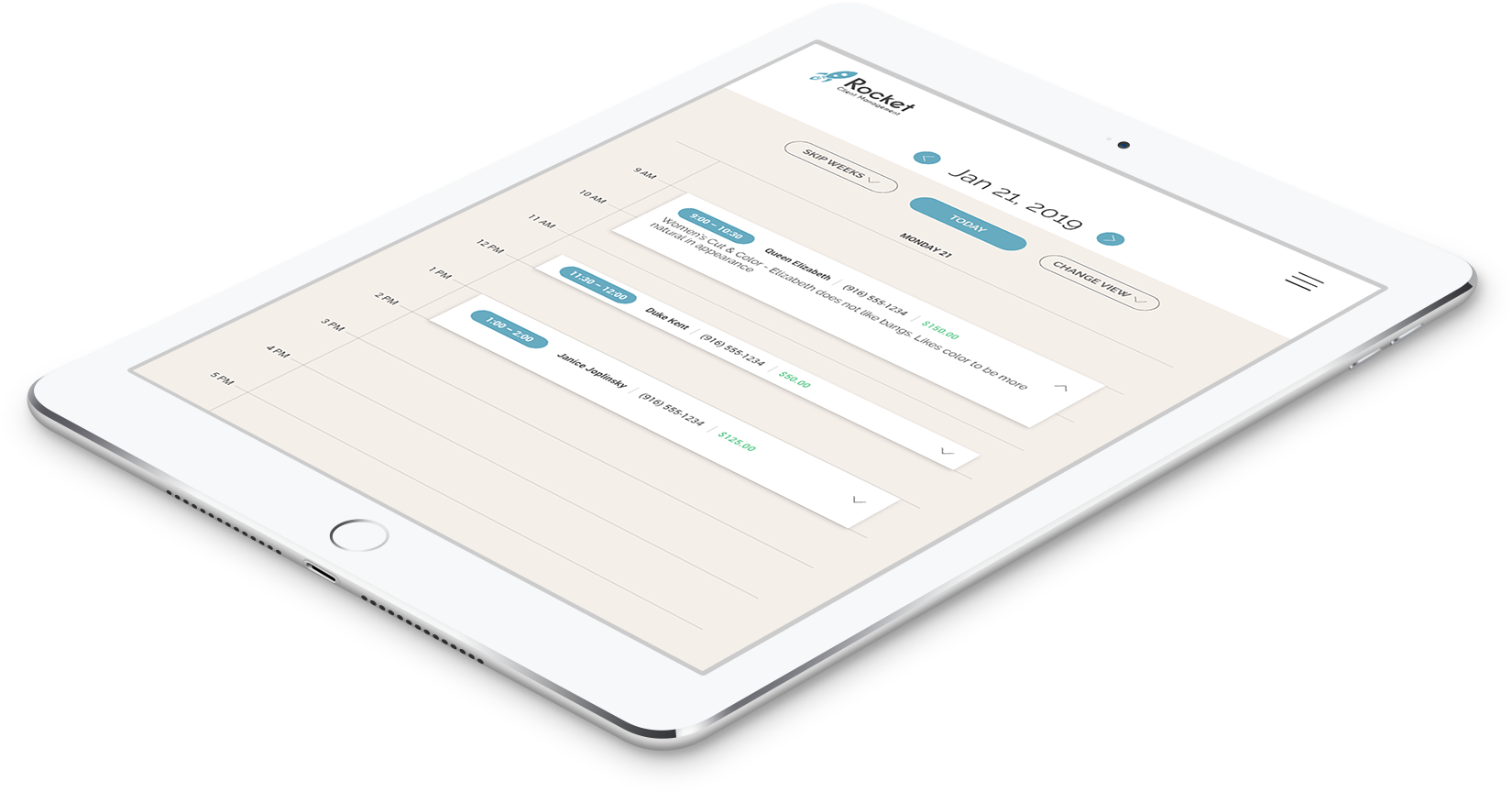 All of the features you need. No annoying fluff.
Our users love Rocket's robust, straightforward features that deliver exactly what you need to run your business. You set your appointment types, duration, and availability. You determine who is part of your network team. Best of all, everything is accessible at any time, from any device.
Automated Appointment Reminders
Client Online Booking 24/7
Free Customizable Website
Integrate with Social Media
Works on Any Device, No App Needed
Calendar Sharing with Team
Notes History from Past Appointments
A stellar experience for you and your clients.
Our customers rave about how Rocket helps manage daily operations and enhance the client experience from anywhere, anytime. Cut costs, reduce mistakes, save time, and increase productivity.
I have been a hairstylist for 18 years. I swore I would never give up my paper book until I found Rocket. It is so simple and easy, I wish I would have started using it earlier. My clients love it.
I love that Rocket Client Management does all my follow up and reminders without me lifting a finger.
SARAH – Through the Looking Glass Salon
Rocket Client Management makes me look so professional when my clients get automatic text reminders about appointments like a doctor. I always get compliments from my clients.
LINDSEY – Independent Stylist
No credit card is required to get started.